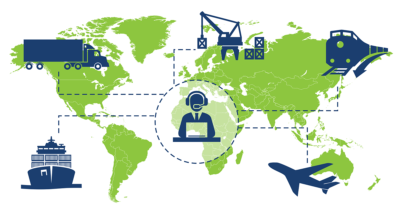 As more consumers use their connected devices to shop from an endless aisle, retail and eCommerce players are increasingly shipping from omnichannel fulfillment points where inventory is closer to their customers. But not only is eCommerce as a whole growing, cross-border shopping is growing at about twice the rate of domestic eCommerce, which means that omnichannel fulfillment networks are extending to overseas suppliers.
The statistics are telling: DC Velocity indicates that cross-border eCommerce today accounts for at least 15 percent of the world's online traffic.
Global logistics has never been easy. But now it's getting harder as global eCommerce activity drives more frequent and smaller shipments to consumers who can be anywhere from around the block to around the world.
However, despite this seismic shift, many shippers and 3PLs are still struggling to create a true, omnichannel cross-border retailing and shipping experience. They are getting bogged down by many critical issues, including:
Manual U.S. Customs clearance process for parcels
Border security compliance requirements
Determining de minimis qualifications
Landed cost calculations
End-to-end tracking
Returns
These are complex problems, but there appear to be changes underway which will make it easier to streamline cross-border shipping of eCommerce parcel deliveries.
If you are interested in knowing more about cross-border parcel shipping—download our latest eBook, "Parcel Cargo Chains Coming of Age," for a deeper dive into the state of today's global, omnichannel retail and shipping world.
Article by Pierbridge
Sign up to our CargoWise Newsletter
Subscribe for the latest updates on new CargoWise functionality, success stories from our customers, and insights from our global team.