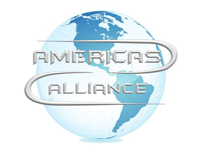 About Americas Alliance
Americas Alliance is a network of independent, qualified and registered forwarding and logistics companies. With a focus in the Americas, their primary goal is to empower the American continent, opening up new opportunities from the Americas to the world.
The network is managed on a neutral basis for every member, ensuring a fair, professional and trusted business environment for members.
Americas Alliance provides a quality platform for companies to meet other likeminded logistics and freight forwarders with the primary goals of driving collaboration and delivering greater operational efficiency.