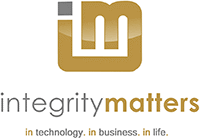 Areas of expertise
Platinum Warehouse
Certified Accounting
Certified Customs
Certified Forwarding
Certified Integration
Certified Workflow

CargoWise Certified Practitioners
1 Certified Professional with the highest level of accreditation

About Integrity Matters
Integrity Matters is a technology consulting firm that specializes in increasing efficiency and process optimization for international and domestic freight forwarders, through their use of software and hardware that best matches and supports their business. Integrity's greatest strength is in project preparation, planning, and implementation of operational software for the day-to-day business of freight forwarding, namely 'CargoWise.'
The specific modules with which Integrity Matters has hands-on experience include Air and Ocean Freight Forwarding, Customs Brokerage / ISF, Domestic Freight Forwarding, Warehouse, Purchase Order, Accounting, CRM / Sales, Web Tracker, e-Docs, all Registry and Administrative functionality and designing custom reports and documents, Workflow Templates, and designing HTML responses within email triggers.
Testimonials
Angie is always very informative, it is clear that she knows the system very well and is a fantastic trainer / educator of the system.
Technical know-how, engagement and ability to interpret customers questions from all skill levels are Angie's strengths. She has been exceptional to work with.
Angie is very helpful and knowledgeable. She always responds to us in a timely manner and gets the job done!
Angie is a true business partner. I can always count on her high integrity and superior knowledge of the business and Cargowise. She always goes beyond the call to ensure we are moving on the right path.
Angie is an extremely capable professional who is highly qualified and experienced in our industry. She brings this knowledge into all that she does and delivers consumable materials that are concise, instructive and efficiency driven for both internal and external uses.
When we work with Integrity Matters, our requests often blossom into additional avenues of learning and development, which really helps support RAM's learning advancement and use of the system. Greatly appreciated!
Angie was extremely easy to work with and very accommodating, we had a rush to get these items implemented with a new client and she went out of her way to make time for us to get things ready quickly! Adding these competencies have greatly increased our offerings to our client base.
Have a wonderful relationship with Integrity Matters and continue to use them to date, absolute professionals and a joy to work with.
Website
Email
Languages supported
English
Regions of operation
Americas
Partner since
2012
Office locations
Orlando (Florida, USA): +407 245 7322