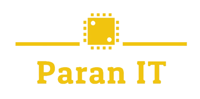 CargoWise Certified Practitioners
1 Certified Professional with the highest level of accreditation

About Paran IT Limited
Established in 2008 in Auckland, New Zealand, Paran IT Limited has grown to become a proficient IT consulting firm. Specializing in offering dedicated IT support, the company prides itself on delivering tailored services, especially to law, accounting, travel, property management, and logistics businesses.

Our small-scale operations empower us to provide individualized attention to each client, fostering long-term relationships. Our expertise becomes their strength, with clientele predominantly comprising businesses lacking a dedicated IT admin role. Paran IT Limited ensures businesses can seamlessly operate without any IT hiccups.

Currently, we also extend our expertise to Cargowise consulting. With experience in addressing technical issues within the freight forwarding sector, our team is proficient in system configuration, introducing and implementing new CargoWise features to enhance operations.
Website
Email
Languages supported
English, Korean, Chinese
Regions of operation
Asia/Oceania
Partner since
2023
Office locations
Auckland, New Zealand : +64 21 847 130