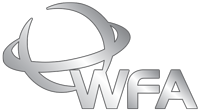 About The World Freight Alliance (WFA)
Founded in 2003, the World Freight Alliance (WFA) is an alliance of like-minded, progressive and proactive freight forwarding logistics companies spread across the globe. Through a worldwide network, the WFA offers global and cost effective solutions to a myriad of freight needs.
Possessing a reputation for local knowledge and expertise allied with a global network of partners, the group offers a full suite of services including freight forwarding, customs clearance, logistics & warehousing, fiscal representation and express delivery services.
The WFA members provide a standardized level of excellence in all regions. The goal is always to partner with other experienced companies to provide a seamless service offering across the world. They represent a vibrant organization of long standing members with a goal to further develop the alliance to stimulate growth for WFA members.
In June 2016 the WFA was named "Best in Class" by The Global Institute of Logistics – "The Benchmark Alliance" in the world of independent freight networks.
Website
Email
Regions of operation
Africa, Americas, Asia/Oceania, Europe, Middle East
Partner since
2018