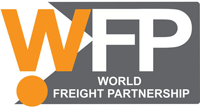 About World Freight Partnership
World Freight Partnership (WFP) network has been set up by freight professionals who understand the needs of dynamic owner managed international freight businesses who want to compete on the World's stage.
WFP's mission is to provide members and clients with a high level of personal attention coupled with the benefit of a truly international global network.
This network works on an exclusive membership platform, city by city, and multimodal, throughout the world, offering an integrated door to door service with professional, established businesses who will share our aim of creating the world's most successful and efficient global logistics network.