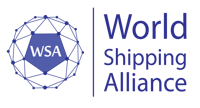 About World Shipping Alliance (WSA)
Founded in 2018, World Shipping Alliance (WSA) is an independent worldwide network for freight forwarders. They have built great experience in the field of freight services, OTI / NVOCCs and logistics specialists and their intimate and various multi-relations with freight forwarders around the globe, immediately connect you to a large network of reliable agents.
WSA provides one of the best ways to effectively manage freight so you can maximize operational efficiency. In addition to the services of the allied freight forwarders, WSA also provides the opportunity to work in a secure environment which will help you reduce costs and risks while expanding your boundless business possibilities.