A single platform for your entire supply chain
One system capable of retaining and exchanging your entire shipment data while offering a portal for all your trading parties to monitor and maintain their supply chain - providing standard connectors, simple status updates, and global visibility - all from the one platform.
No set up required. No plug-ins either
CargoWise is a fully integrated, single platform solution, which means there's no configuration, mapping or maintenance required. And with all your end-to-end shipment data embedded into the system, you don't have to worry about plugging in (or paying for) any additional third-party platforms.
A powerful, global network
We have a powerful network of CargoWise connections, drawing in thousands of nodes that bring millions of further connections – each carrier, each forwarder, each shipper, each party to a transaction, each module, each geography, and each technology create further nodes, and with them, exponential connections.
Make accurate, data driven decisions
With access to a range of legitimate data sources, our advanced machine learning algorithms allow you to make informed decisions, reduce risk and respond to supply chain volatility.
Events flow throughout the whole of the container lifecycle, automatically alerting users when a milestone is set to be missed, at which point they can swing into action, advise impacted parties downstream in the supply chain, and plan contingencies.
Direct data connections to the world's ocean carriers
Our growing list of direct container line connections means 95% of ocean freight can be booked through direct carrier integrations with ocean carriers and NVOCCs - providing you with access to direct electronic messages for schedules, bookings, contract rates, tracking, verified gross mass, shipping instructions, and bill of lading data.
Are you ready to unleash the power of your ocean data?
Visibility is more than knowing where your shipment is and when it's going to arrive at its next destination.

Download our latest ebook to find out how you can help your customers maximize their shipment data to reduce risk, make more informed decisions, and respond to disruptions from a position of strength.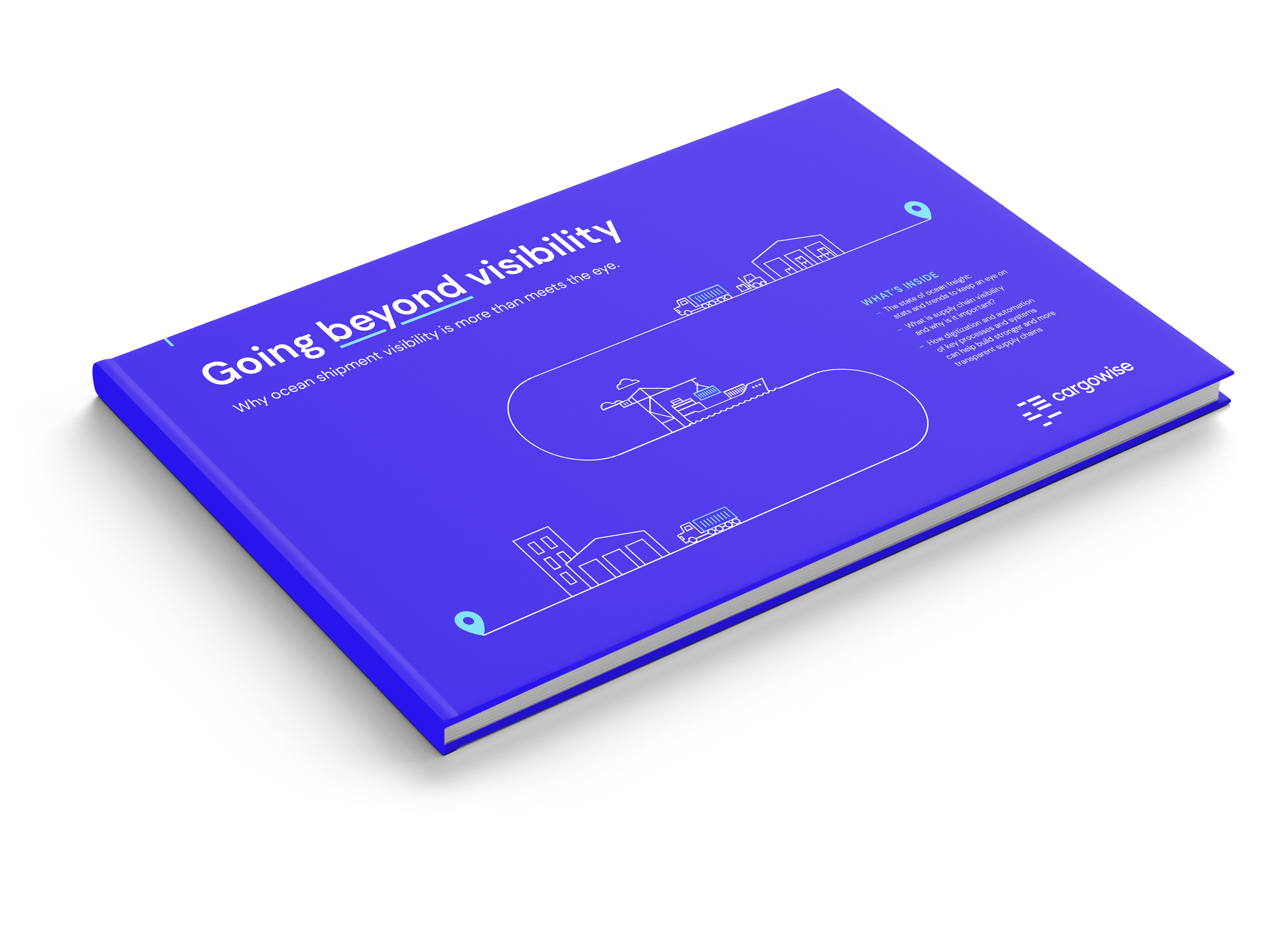 I can very happily say that we've rolled out CargoWise to our entire ocean freight organization. For us to have just one global application is great, because a global application helps you to really show that the quality of your service is the same everywhere."
DHL Global Forwarding 
End-to-end shipment visibility – from first email to final invoice
Optimize your quote to booking process
When a quote is received, CargoWise generates the cost rate and optimizes this for air and sea by using real-time carrier tariffs. Margins and surcharges are pre-populated, and you can choose the most suitable rate and route to maximize your profits. Once the quote is accepted, all information is transferred directly into the booking, without re-keying or re-entering any data. 
Monitor job shipments with ease 
Container movement updates are made available in real-time, removing the need to scour carrier websites. If a container is delayed, you are notified immediately and the appropriate messages can be triggered, keeping customers informed and helping to reduce penalties and wasted charges along the way. 
Automate and streamline your operations
At every stage of a shipment, completed tasks can automatically close and the system will generate and distribute the updated documentation and EDI, including transport documents, bills of lading and invoices. CargoWise can also automatically raise exceptions - such as a missed cargo ready date - to keep everyone updated on the cargo's status and minimize delays. 
Access an online feed of sailing schedules from the world's largest ocean carriers 
Search and compare latest sailing schedules and connecting routes 
Publish custom schedules based on existing carrier schedules 
Automatic updates from carriers for estimated departure and arrival dates 
Auto-complete matching voyage details directly from the online data 
Learn more about sailing schedules
Simplify the ocean booking process and make bookings electronically and directly 
Convert bookings to a bill of lading with just one click 
Consolidate shipments to a single carrier booking  
View job, client, sales and staff documentation in a single system 
Manage bookings with allocation control, documentation and container tracking functions 
View and compare buy and sell rates with a powerful rates engine built for forwarders 
Search rates based on criteria such as origin, destination, carrier and commodity 
Search and apply buy and sell rates to shipments quickly and efficiently 
Create quotes using accurate cost and revenue calculations 
Automatically convert quotes to bookings once they're accepted 
Workflows that work for you 
With every task, milestone, or trigger fine-tuned and configured into a workflow process, you can build the routines that not only quickly and efficiently satisfy your customers' needs, but also define the quality of service they expect - increasing transparency, accountability and productivity across your operations. 
The power of CargoWise
Discover how CargoWise can optimize your global supply chain across modes and borders.